What is Amazon affiliate program?
Amazon Associates program is an affiliate marketing program that allows website owners, bloggers, YouTubers, Social media influencers, Developers to earn money from Amazon, by recommending the product.
Once, you have an approved Amazon associate account, you can recommend any product on your blog, YouTube channel, Android or iOS app, Instagram, Facebook, Twitter or other medium and earn a handsome commission.
What are the requirements for the Amazon affiliate account?
The first thing, you need to know:
It is completely free to become an Amazon affiliate.
There are three categories of people who could join the Amazon affiliate program:
Blogger/Website owners – People who have a blog or an existing website.
YouTubers: If you have a YouTube channel, you can use it to apply to become an Amazon affiliate.
Social media influencers – Amazon influencer is a new program that is open for mini-celebrities a.k.a. social media influencers. This is an extension of the Amazon associate program and can be joined by anyone.
How to Make Money with Amazon Associates
The program is 100% free to join. It's also a very simple, three-step process.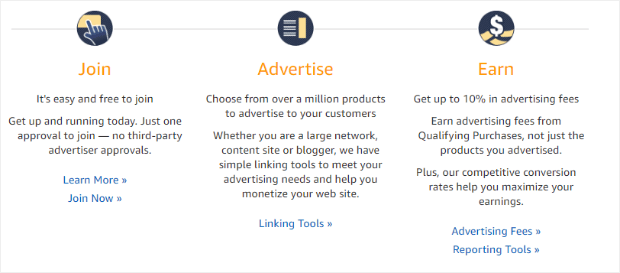 #1 Signup
You need to join the Amazon Affiliate Program (also known as "Amazon Associates"). You'll be prompted to hook up your current Amazon account or create a new one.
Amazon will show your name and address to confirm this is the correct information for payment. If not, you can always change your address:
Then, you'll need to add the websites that you want to enroll in the Affiliate Program: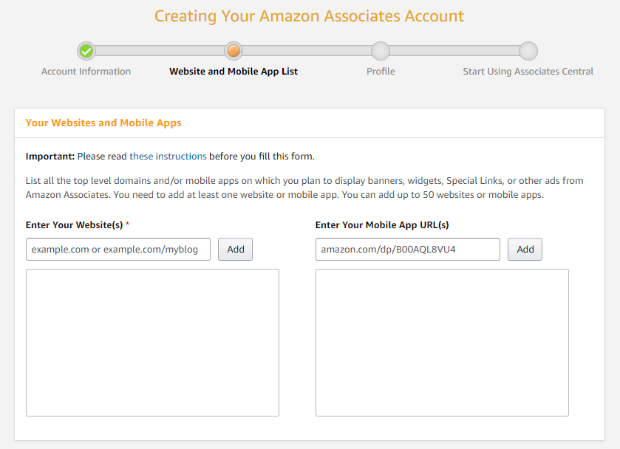 Next, you'll build out your profile with some basic questions about your website including an Associate's Store ID, a brief description of what your store is about, and topics that best describe your content: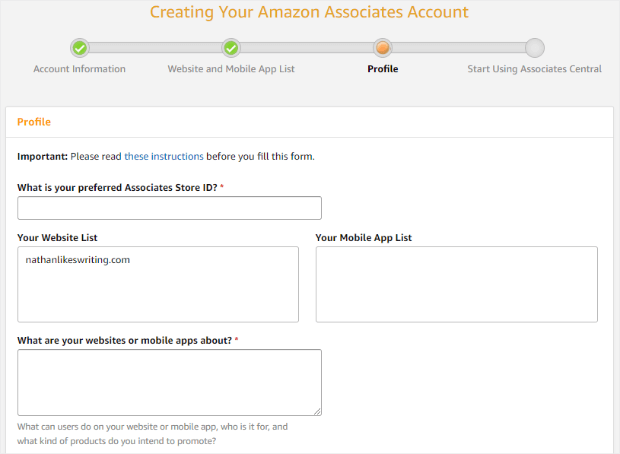 Now comes the fun part: looking at traffic and how you plan to monetize your blog.
You'll choose the methods you use to drive traffic and talk about how many visitors you currently have. If you don't have many visitors yet and aren't currently making any revenue from your site, don't worry! You won't be penalized at this point.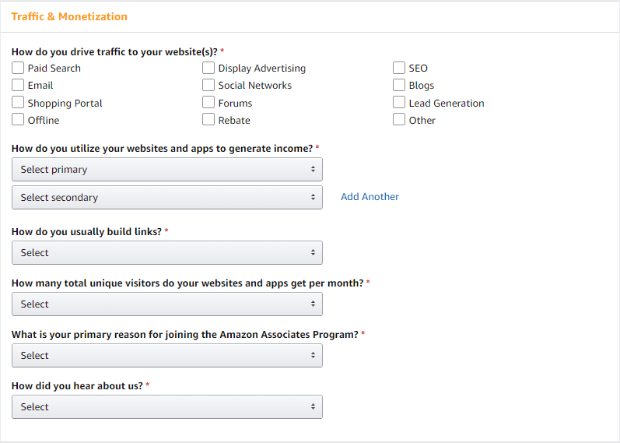 Then just confirm your profile and you'll be ready to start getting links to make money on Amazon without selling anything!
But keep in mind that you only have 180 days (or 6 months) to be successful.
If you haven't made any money through Amazon's Affiliate Program by that time, your account will be closed. That's why it's important to build your site and email list before enrolling in Amazon's Affiliate program.
#2 Getting product link to promote
First, on Amazon Associate's homepage, go to Product Links under the menu header Product Linking.
Once here, you can search for products that would match the content of your blog. In this example, we'll get a link for "pens."
After clicking Get Link, you'll be taken to a page where you can customize the link for your content. You can choose between text and image, text only, and image only.
You may then customize the link to fit your needs and see a live preview of how it will appear on your site.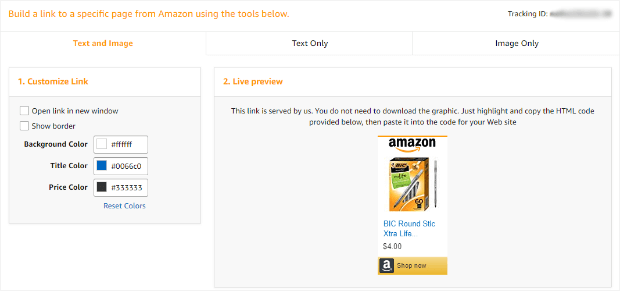 Finally, you will have access to the HTML for the link which you can insert into your website or social media.
Amazon Affiliate commission rates in 2020:
Amazon offers a flat affiliate commission rate for a product in a specific category. However, different categories have different rates.
Here is the new Amazon affiliate commission rate: